We are Emis & Emis, a group of friends in good mood, which appeared for the first time 20 years ago.
Debut at the '94 Carnival in Rethymno with topic Elementary School. In the following year we spent unforgettable moments as Nightly Visions. The following years are described below...
Our Team takes part in all events of the 3-week Carnival season. The only goal of our group is to stay close together all over the year. And we succeed in this efforts in organizing excursions and super parties. We know very well that joint fun is double fun and give man the power on his/her way ahead.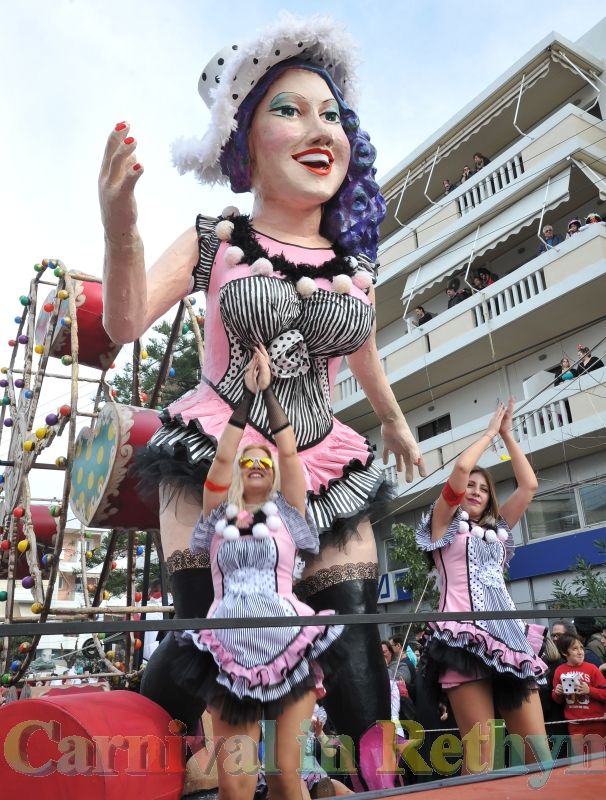 CARNIVAL 2018: "It's not what you think, my heart."
A subject dedicated to those hot summers of the 60s .... When we enjoyed Rethymnon with some pepita, a few peanuts and Byral the Greek comedies in the summer cinema. Today: Still hot: some like it cold. In these endless walks by the sea, with the cool Cassata ice and snails with Ouzo. We danced in clouds around beautiful legs and new bands, and of course the Beatles. We remember the afternoons as we were roasted under the sun with loud laughter like diving on hot summer beaches and yet in the heart of the winter ... so are Emeis and Emeis .... A summer ....
Carnival 2001: Also in Rethymnon our "Moulin Rouge" added a new dimension to the term "having fun" like we do understand it.!!! And because we moved through Rethymnon with our own kind of "Can-can", once again we set the whole town upside down, and, be sure, we did it again in 2002 with our beautiful chefs. 2003 we all went as playing cards, our ladies as Queen of Hearts, of course.
And 2004 we showed to Rethymnon the "Power of Flower". 2005 we roll the dice! If you like to meet us, come and join us. 2006: Dancing with . . . swans: Dance with us our dream of a beautiful world!
2007: The OR(G)ION Express of Emis & Emis is coming for the carnival roads of Rethymnon.
2008: The EMEIS & EMEIS Team go as Hermes, the messenger of the gods. of The fun begins again.2009: We solve the problem of the century: Water from the Amazone! 2010 we were the one and only CARNIVAL FLAMES. CARNIVAL 2011: WE HAVE A HEAP OF DEBTS AND STILL DON'T FEAR THE TROIKA! Optimistic as always, we invest in friendship, which helps us to withstand all the adversities of life. Carnival 2012: Rabbits with lips of stone running like mad! 2013 "The 300 Dogs in our House of Parliament . . ." CARNIVAL 2014: "EMEIS Jazz, ESEIS?" (We're Jazz, and you?) CARNIVAL 2015: "Chocolate and cream!" CARNIVAL 2016: "Insane vie en rose - Life like .... 30 kisses of roses !!!!" 2017: I ride my Vespa.
Please wait a second and then click on the images below!
At the EMEIS & EMEIS, it is 'not what you think' at the Carnival in Rethymnon 2018. A suspicious photo too!

A corset - was found in bed - in the morning at seven - It had been left - The corset was Marie's - but my wife's name is - Brigitte - there you are! (Ringelnatz)

The Grace of Youth at EMEIS & EMEIS 2018. That's despite disguise. . . real.

OK, it really seems to work too! Carnival party at EMEIS & Emeis with good mood and real nice costumes.

A sea of Jacks of Hearts and Queens of Hearts at EMEIS & EMEIS enjoys us this year at the carnival in Rethymnon.

The EMEIS & EMEIS at the Carnival enjoying the nostalgia of the 60s. Not bad!

Our chick got dressed today really beautiful, not to forget Mama's hat!

EMEIS & EMEIS 2017 in top form! Where do all these carnivalists come from? There must be a nest somewhere!

Rock 'n Roll!Tummy-free in February, that is courage to beauty, Bravo EMEIS & EMEIS!

Vespa back and forth, you two don't fit any Vespa at Carnival 2017: Simply too elegant!

EMEIS & EMEIS hold the flag high at the Carnival 2016, following the motto: We're fine.

The photography Face of the year: group picture with gloomy Lord, La vie en rose!

Our funny life, crazy as kissed by 1000 roses.

Don't be shy, you shall just smile.

An ocean of cheerful rose-children flooded Rethymnon at the Carnival 2016: EMEIS & EMEIS

Rethymno's Finest Chocolate Party 2015 presented by EMEIS & EMEIS.

Now somebody tell me, what are these nightcaps good for here.

Always these miniature cameras. We barely fit in the picture.

All that Jazz in Mardi Gras, Carnival in a different way!

'It ain't got a thing if it ain't got that swing.' We offer Oldtime Jazz at its best at the Carnival in Rethymno 2014.

I also think Jazz is great!

EMIS & EMIS 2014: Something's going on here, the walls here are shaking. We are Jazz!

Hello guys . . . !

300 dogs in parliament? To endure this, you need to become a pet lover. Well!

2013 remains a happy carnival. We won't let the politicians mess up our celebration.

Actually, it is to remain a secret, but we are 'the fairest of them all', who else?

EMIS & EMIS full in action! Today at the carnival there's loads of fun and just a good mood!

Five minutes to 12, and the Emis & Emis are running like rabbits.

However, we bunnies are hopping happily through the carnival 2012!

Group photo with bunnies, the Emeis & Emeis 2012

Just having fun!!!

The 'TROIKA' of the Emis & Emis Team at the 2011 Carnival in Rethymno