means

Look at the pictures:
Everybody is having fun and feeling good ...
so to say heavenly like these Carnival - angels as they call themselves.
They are members of the "TSITSIKOTRIHIDES" team, a bunch of Carnival maniacs...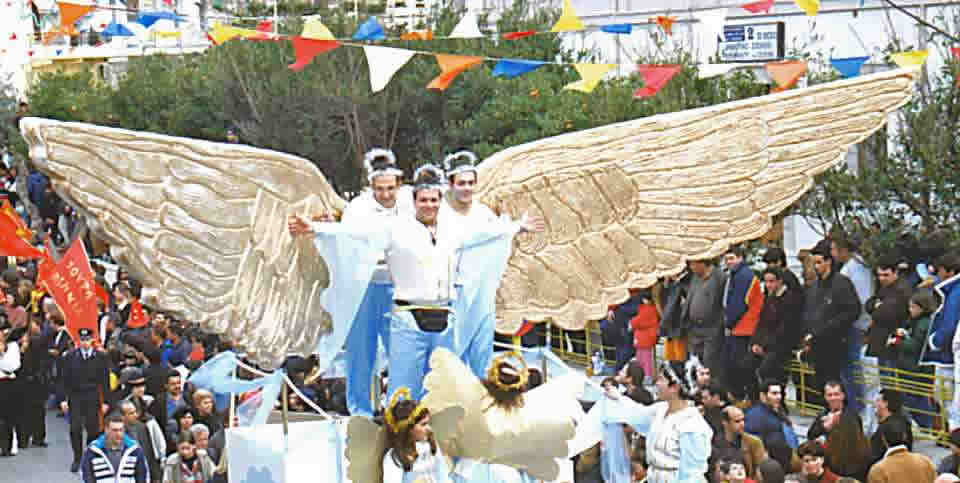 Please wait a few seconds and then click on the images below!

These guys have reason to be proud of their "PROUD MARY"
the "ALLI" team.
Again they won a second price for their impressive float. Riding on a New Orleans riverboat Queen through Rethymno is pure fun for passengers and spectators.




Hamlin's piper 1999 ("ARGOSCHOLI" team) After having lured away all rats from Rethymno's old town, he did not get paid by the senat of Rethymno (unbelievable, he must have been the first and only one!). This is said to be the last photo ever seen of him and the children of Rethymno. (

Actually the kids are said to be on a 5 - day - school - excursion. They were seen at a bouzoukia place in Thessaloniki enjoying themselves!

)

Do you know the new slogan: Carnival in Rethymno the Carnival of Crete!

(You see, we're always "The Best")

Click the links an enjoy!

Go to Carnival pages
© 1997 - 2018 ms marketing hellas, Questions and comments please mail to [email protected]