means


Dancing

Dancing

Dancing

Dancing

Dancing




Masquerades everywhere


for children and grown-ups.
Everywhere you can hear a weird mixture of Latin and Greek music,
people dress up to visit the houses of friends who of course pretend
not to know who the dressed up visitors are. These visitors are not
allowed to speak until their identity is revealed by their friends whom
they visit. A nice custom.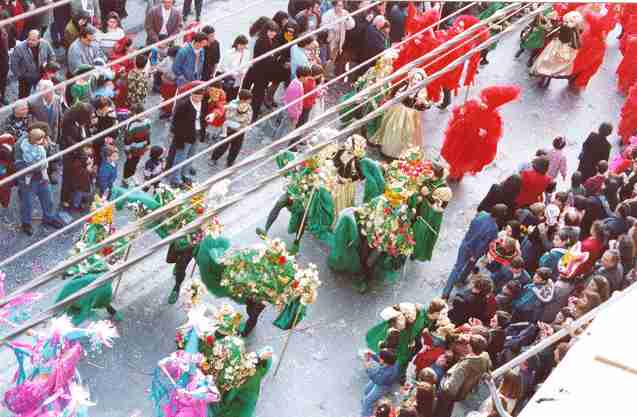 Two weeks before grand parade day there is a treasure hunt. This year again
we'll have about 90 teams with over 10.000 treasure hunters. The hunt
is a real modern one with motorbikes, walkie talkies, cell
phones and Internet information. The treasure is
nothing else than the honor of being organizer
of next year's hunt.
Please wait a few seconds and then click on the images below!
The dinosaur is one of the floats which needs months of work to be built. The members of the "Tromokrates" ("Terrorists") - team wear Stone Age clothes made of real sheep skin. The bones are from the local butchers. The photo can't tell the odor of these guys, until now it is not known who or what is smelling more: the dinosaur,the sheepskin costumes or the bones.....
Until Sunday, February 18th 2018 every day and everywhere in Rethymno there is "Karnavali!"

Click the links an enjoy!

Go to Carnival pages
© 1997 - 2018 ms marketing hellas, Questions and comments please mail to [email protected]