DAKTYLODIHTOUMENOI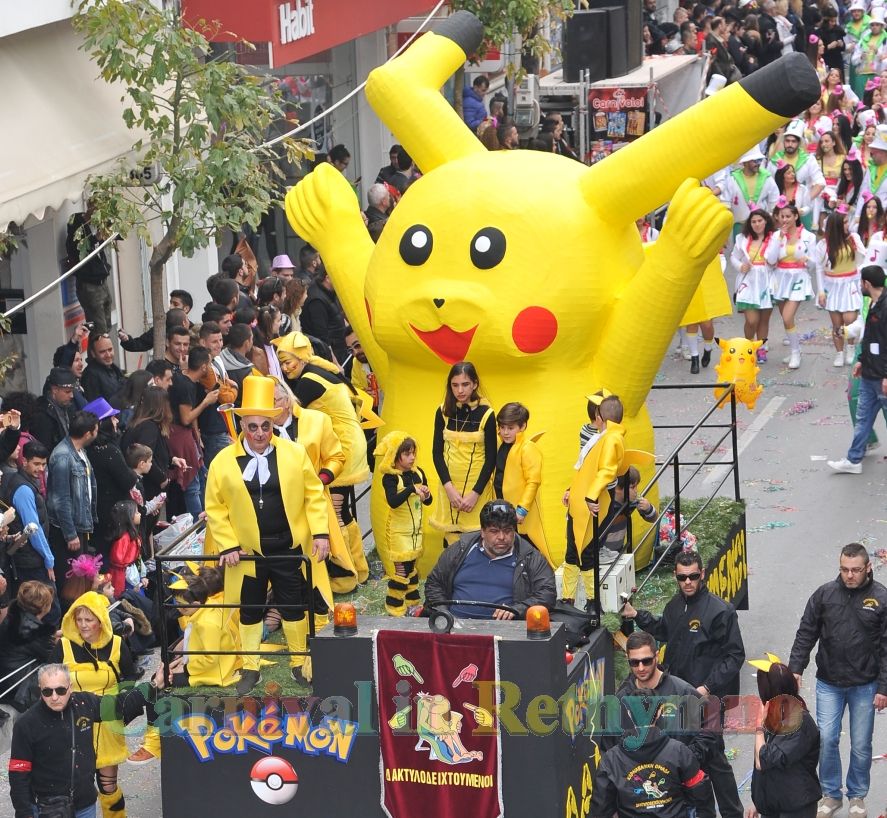 2017: Pokemon
The DAKTYLODICHTOUMENI,
are one of the teams who shape for years the Carnival in Rethymno. With intelligent themes and and colorful costumes, as well as enthusiastic participants in a good mood, they please young and old.
The Carnival team was founded in 2004 by four friends. The DAKTYLODIHTOUMENI are now 250 members, 50 of which perform the activities of the group, while the rest of the group throughout the year helps when circumstances demand it.
The philosophy of the group and its members is reflected in the creation of original, local and funny costumes with themes that are influenced by the political and social events. We keep the principle of ordering ourr costumes from factories in Rethymnon.
Our goal is to revive the spirit of Carnival and to help people to have fun and escape for a while from the problems of everyday life. Therefore, we have at our parties guests from the world of show biz, accompanying us at the Grand Parades.

The topic for the 2017 parade is "Pokemon".

The Daktylodichtoumenoi remain faithful and want to lure this year everybody to the Carnival in Rethymnon.
With their active and persistent presentation since the 2004 carnival, they appear this year with a rather large team and an imaginative float, they are always out of the ordinary ....

Please wait a few seconds and then click on the images below!

This is our 2017 Pokemon float, and we are particularly proud of it!

Hugh, I have spoken, said the chief and saluted his people!

Our Indian ballyhoo: Not only the Calumet smokes at the DAKTYLODIKTUMENOI in 2016.

Not only great politicians smoke the calumet, but here apparently our Indian trouble couple too.

Cheers !!! Wolf and lamb sitting together in the pan.

Don't worry, you dear goats, we wolves won't bite, just want to play!

Monster High is our float at the Carnival in 2014, and so beautiful pink!!!

Attention, all DAKTYLODIHTOUMENI: Take carnival attitude and not breathe!

Kindly greetings from our floats! Like this the four-hour parade is easy to survive.

Click the links an enjoy!

Go to Carnival pages
© 1997 - 2017 ms marketing hellas, Questions and comments please mail to webslave@rethymnon.com