Apartments in Rethymnon, Crete, Greece
Holiday-Apartments and rental Rooms to let:



Antonis Giatakis
Kefalogiannidon 18
GR-74100 Rethymnon
Crete, Greece
Phone: +30 28310 22478
Fax: +30 28310 29211
Email:

[email protected]
Three studios/double-bed rooms with balcony facing the sea, 1 double-bed room with balcony towards the sea, 1 double-bed room with small balcony facing the Old Town and 2 studios in the garden house with common porch in the rear part of the large fully renovated building on the edge of the picturesque Old Town of Rethymnon, offers to the guest a comfortable, priceworthy and independant holiday accommodation.
The building is situated between the harbor and the town castle called "Fortezza", which means short distances to all historical sights and swimming possibilities of Rethymnon.
All our practically furnished rooms have private shower/WC, refridgerator, air conditioning (warm and cold). The studios have a fully equipped kitchenette. We offer free Wi-Fi.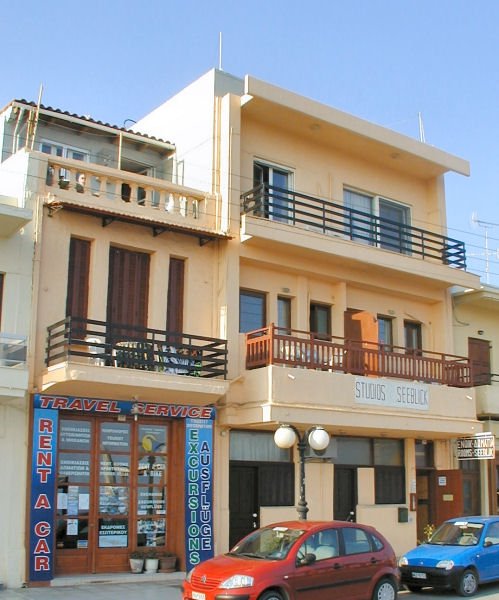 From the fresh and crystal clear waters of the Mediterranean devided only by the coastal road, is the large renovated building with its open balconies facing the sea. Just beside the tavern Fanari, which invites to enjoy Greek specialties.
Enlarge Map
The sea view from the balcony in the morning promises happy holidays and let you forget bad weather conditions at home.
The rooms invite you to enjoy your independent holidays in Rethymnon. The furnishing is modern and useful. In view of the convenient prices a "golden opportunity". The small kitchen with fridgerator is fully equipped to provide independency to the guest.
Bookings
A room can be rented directly from the owner.
Minimum rental time is 3nights.
Official price rates 2018, prices in EURO per night :
01/01 - 31/12

Studio
50,00

01/01 - 31/12

Double room
45,00
Additional bed: +20%. || Arrival after 14:00 h, departure before 12:00 h. || Cleaning every second day, towels change every 4 days, linnen change every week. || Minimum stay: 4 nights
Prices include all local taxes.
For further information please send us an email.

Apartments in Rethymnon: STUDIOS SEEBLICK
Antonis Giatakis
Kefalogiannidon 18
GR-74100 Rethymnon
Crete, Greece
Tel.: +30 28310 22478
Fax: +30 28310 29211
email: [email protected]

Privacy Policy, Data Protection:
The use of our website is usually possible without providing personal information. The collection of any personal data (such as name, address or e-mail address, etc.), is done on a voluntary basis.
BY USING OUR WEBSITE YOU AGREE EXPLICITLY THAT WE COLLECT YOUR PERSONAL DATE AS DESCRIBED.
These data will not be given to third parties, except third parties who are involved in the process of reservation, booking of rooms, payment for rooms, etc. and in your stay at our studios and rooms.
Visitors of this site have the right to view their collected personal data on email request. The email address has to be the same as the one by which they made their information or contact request. They have the right to have erroneous data be corrected. They can also request to have their personal data deleted the same way. Please allow 30 days for deleting, because we have to check the processing of your data first, i.e. information answers, complaints, forwarded data to bus companies etc. You will be informed about the final deletion of your data by email.
After the deletion of your data we won't be able anymore to answer personal service questions.
We point out that data transmission over the Internet (e.g communication by e-mail) security vulnerabilities. A complete protection of data against unauthorized access by third parties is not possible.

General Information

The Greek island of Crete is a holiday resort of superlatives and holidays on Crete are always a satisfying event. Enjoy the Cretan hospitality, the change of landscapes from sandy beaches to high mountains until 2.500 m. There are all sorts of relaxing or sports activities. You can visit the archeological sites, which give an impressive picture of the birthplace of western culture.

It is a place where you can live nicely all over the year. The climate is mild, even when hot in the summer. There is always a change because of the island situation and a refreshing wind blowing.

People are friendly and helpful, very curious and with a positive attitude towards everything new. One has got accustomed to "strangers" like tourists and foreigners working in tourism and other branches. Tourists are welcome. So are the diligent helpers from the north of Europe.
Webpage Design und Copyright: ms marketing hellas 2002 - 2018, questions and comments to: [email protected]